The System Integrator for Industry 5.0
We design and develop customized software solutions to meet every operational need and integrate pre-existing systems with the best collaborative robotics solutions on the market. All with a view to Industry 5.0
Our Service Robot proposals are dedicated to public establishments such as accommodation facilities, food & beverage venues and clubs.
The smart collaborator for food delivery suitable for all types of context
Agile, Intelligent and Captivating
They move autonomously around the premises, can carry many dishes at the same time and create, by themselves, an additional reason for customer attraction and curiosity. Robot Waiters are able to maneuver in different contexts, increase efficiency, reduce management costs and are configured as indispensable collaborators for human beings.
Precise service even on multiple tables
Autonomous movement to avoid obstacles
Simple programming 
Perfect for operating even in small spaces
Automatic return to charging station
Intelligent customer interaction systems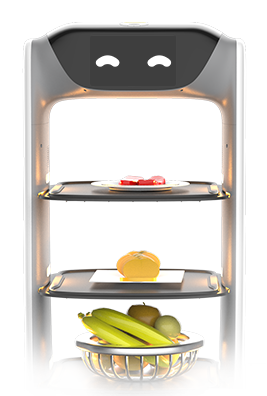 Not just a simple cleaning robot
The Robot Vacuum Cleaner autonomously carries out the programmed surface washing activities, disinfects and does not cause any damage to the surfaces. This is thanks to latest generation materials and autonomous driving technology. Furthermore, the integration between the Lidar and 3D camera allows you to avoid collisions and accidental falls, for example, if you encounter steps.
Polymeric absorbent material
UV disinfection lamp
Intelligent path.
16 liter water tank
Disinfection of circulating water
Long autonomy and automatic charging
There sanitation of areas it won't be a problem anymore
Total autonomy and safety for human operators
A Sanitizing Robot is able to operate completely autonomously in a vast variety of contexts, from the smallest spaces to large areas. Its main advantage is the flexibility and simplicity of scheduling tasks, to which is added the guarantee of safety against human presence and the reduction of sanitization costs.
Mapping of spaces to be disinfected up to 40,000 m2
Program and follow disinfection activities also via smartphone 
Automatic dilution of disinfectants 
13 liter water tank
Intelligent automatic charging
Hospitality smart for a new experience
Artificial Intelligence welcomes you
A Welcome Robot is able to provide a wide variety of services: from the initial welcome of the customer to consultancy and business management. It is able to accurately answer the questions posed by customers, accompany them in their experience within the business and automate many operations. 
A Welcome Robot is perfect for welcoming businesses such as restaurants, hotels, shopping centers, etc. 
Initial customer reception and info point;
Human-machine interaction with voice system and display;
Long battery life and automatic charging;
Autonomous movement and obstacle detection;
Ability to interact with the products and services offered;
Attractive design and valid marketing tool.
You need of a quotation or more information?
Our experts will answer all your doubts and needs. Fill out the form below or call us at one of the numbers below.